Live TV Channels
Our reseller panel offers more than 20,000+ live TV channels from all over the world.
High Quality
We have TV channels in HD, Ultra HD, 4K, and even in SD to provide users with the best and suitable quality.
Video-On-Demands
A huge library of Video-On-Demands has the latest Movies, TV Shows, Web-Series and so on.
Choose Own Price
With our IPTV reseller panel, customers can choose their own price for every plan to earn handsome money.
Server Uptime
We have 99.99% server uptime along with the Anti-freezing technology for uninterrupted streaming.
24/7/365 Support
Facing issue or want help to set up? Contact us as we are available 24/7 to help you out.
Our IPTV reseller panel is very easy to use and user-friendly interface. We offer users with a panel along and complete control over it.
We have made our reseller panel simple so anyone can access it easily. No matter if you are a tech geek or not you can still use it without any issue.
We have enabled Captchas in our panel to avoid unwanted activity and also have the timeout feature as if the panel is not being used then it will log out automatically.
Our reseller panel is a lot easier to use where we allow users to have full control. A customer can manage the accounts of their subscriber easily with our user-friendly panel.
You can Add subscribers to the panel and provide them with the M3U URL, Xtream API Codes or even Add the Enigma and MAG devices depending on what's their need.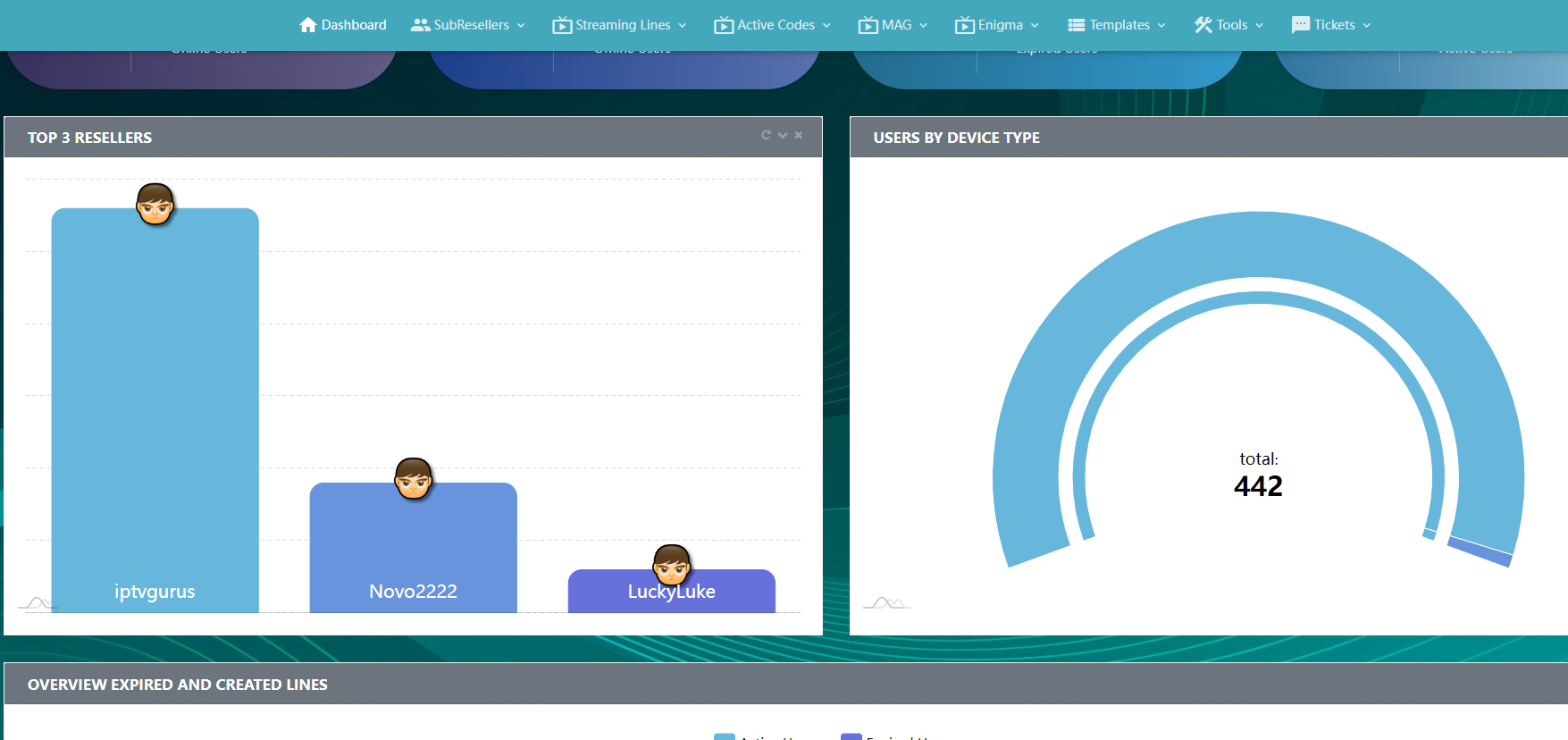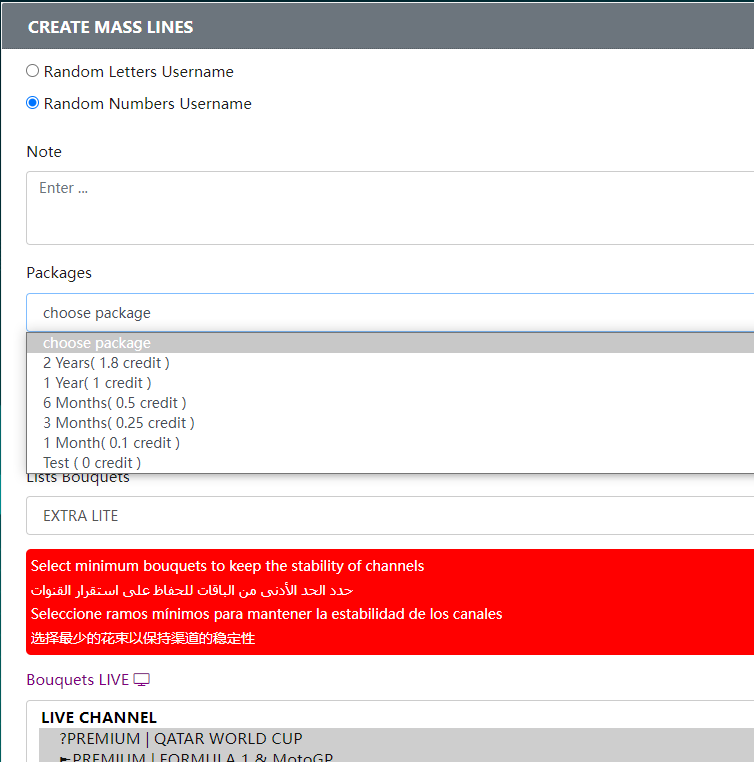 With our reseller panel, you have complete control where you can add new customers, remove old users or expired ones, generate free trials, edit user bouquets, add or remove Mag and Engima devices, purchase paid trial if free expires, and so on.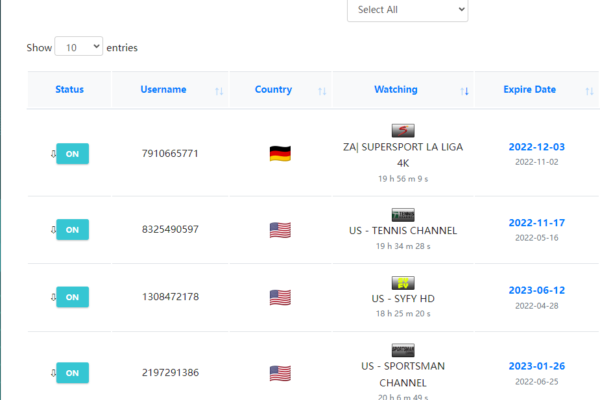 Wanted To Try ?
We are offering our customers 24 hours of free trial where they can check the channel line-up, Video-on-demand section, Pay-Per-View Content, etc.
We want customer satisfaction therefore with a trial if you find our service helpful then you can join us and start earning money with low investment.
If you are not satisfied with our service then probably we don't sign any contracts so you are free to choose whatever you like.
Supported Devices
We support Smart TVs, Android Box, Enigma/Mag Boxes, Computer, Mobile, iOS, macOS, Firestick, Roku, and other major brands.
Multiple Login
With our service, we offer users Xtream Codes API and M3U Playlist URL so the customers can choose the method that suits them.
Application Support
Probably there are many apps available out there so we make service compatible with IPTV Smarters, TiviMate, Smart IPTV, VLC, Kodi etc.
Mac Activation
Our reseller panel has the ability to add mac addresses for Mag and Enigma Box users. This way you don't waste any of your customers.
We have introduced beginners reseller plans where you can purchase credits in a small amount to start your business with low investment.
How Credits Works in Reseller Panel
When a customer purchase a reseller panel we offer them credits. These credits will be consumed according to the plan you are purchasing for the customer.
Your IPTV panel will be consumed 1 credit for a yearly plan, 0.3 credits for 3 months plan, 0.6 credits for 6 months plan, and so on.
Become IPTV Reseller
 Are you looking for an opportunity to make thousands of dollars? (IPTV resellers do)If the answer is yes, then becoming an IPTV Reseller at OneIPTV provides you with that opportunity.
What is IPTV Reseller?
When you become IPTV reseller you get IPTV Panel to create and sell IPTV Subscription to your  clients, through your IPTV Panel you can create
1 Month Subscriptions.
3 Months Subscriptions.
6 Months Subscriptions.
1 Year IPTV Subscriptions.
IPTV reselling prices restrictions
We don't have any restrictions at all. As an IPTV Reseller you have full control over the prices that you change your clients with.
Nowadays, there is huge demand on IPTV Service since it allows clients to watch Live TV Channels, Movies and TV Shows directly to any Smart Device using only Internet connection.
Devices support IPTV
There are many devices that support IPTV including Samsung & LG Smart TVs, Amazon Firestick & Fire TVs, MAG, IPhone, IPad, Apple TVs, Kodi, Android Smartphones, Android TVs, Android Boxes, AVOV, Stbemu, and many other devices.
How does IPTV panel work?
IPTV Resellers Panel works through something called Credit Points
Credit Points are used to activate the IPTV Subscriptions.
How are credit points calculated
In our Reseller Panel the Credit works are used as below:
1 Month Subscription = 0.1 Credit Points.
3 Months Subscription = 0.3 Credit Points.
6 Months Subscription = 0.6 Credit Points.
1 Year Subscription = 1 Credit Points.
Advantages of becoming IPTV Reseller
At Extra IPTV, we provide the best IPTV Resellers price, with a very easy to use  IPTV Panel. In Addition, you don't need any equipment to become IPTV Reseller, you can access your own panel and activate the IPTV subscriptions using your Smartphone or your Laptop. Working in IPTV Industry is very easy, flexible working whenever and wherever you want. Therefore, you don't need to leave your current job.We have worldwide premium Live TV Channels and VOD.